Giving a glamorous meaning to "mobile" cleaningYour 4-wheeled beauty needs a pick me up!
become a provider
SIGN UP
Is your car mud splattered? Or has bird poop on the windscreen? Maybe the seats need a wash? Or the rugs a vacuum clean? Maybe you just want your beauty to shine. Whatever she needs, give her a clean
Treat your car to a CUBECARWASH today
SIGN UP
Maintenance Of The Heater Or Fixing That Tap The Digital Way
No one deserves to wait for a grooming treatment, not even your car. That is why we have included that unspoken member of your family to get a wash, wax or any other service that it requires. Your vehicle gets a 5 star treatment wherever it is.
Highly Professional And Economical

Our professional car washers know exactly what your vehicle needs and they will make sure that they deliver the service efficiently.

Economical on the pocket, they will leave your car gleaming just like new. Tap on the app and give your car the wash it desperately needs. Do not worry about being present to make the payment – it will be done automatically once the job is complete.

Select Your Service, And Let Your Vehicle Experience The Pampering

Waxing, washing, or vacuum cleaning, tyre cleaning or car polishing we give your vehicle a pampering of its lifetime, this time and every time. When you next get into it, you will sense the happiness emanating from your vehicle, feel its smile and inhale its fragrance.

World class experience that only we can give A special treatment just for your car

Give your vehicle the ultimate clean; leaving it shiny and feeling like it is new. Like any other family member, it too deserves some tender loving care, so that wash you treat it too will go a long way. Get your car waited upon today and see it transformed to one that you cannot recognize as yours.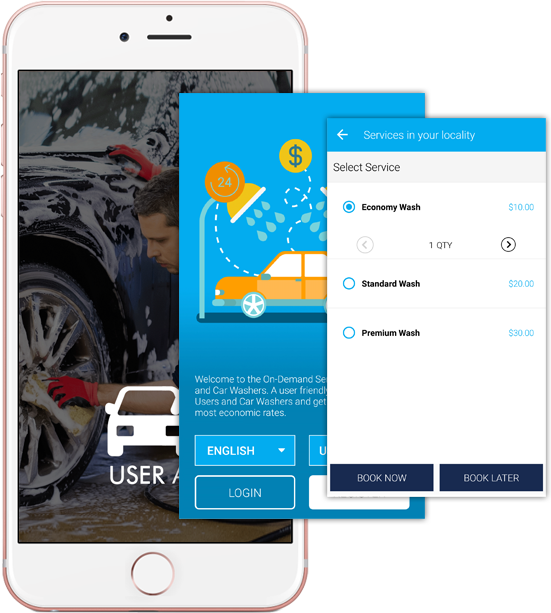 THAT PERFECTLY SYNCHRONIZED JUST FOR YOU
Tap the app, select a driver, get to your destination without looking back. That is what our app will do. No words are necessary when you ride with us because we know exactly what you want. Ride and save with us – luxury cannot get any cheaper.
Meet Our Car Washers
Our family welcomes you on board with a smile. Just look out for them!